This healthy morning glory muffin cake makes a delicious breakfast or snack! You can eat it with milk, yogurt, or just spread some plain cream cheese on top and you will love it.
Morning Glory Muffin Bread Recipe
Ingredients:
1 C. all-purpose flour
1/2 C. whole wheat flour
2 Tbsp. flaxseed meal
1/4 teaspoon salt
2 teaspoons baking powder
1 teaspoon baking soda
1/2 teaspoon cinnamon
2 very ripe bananas
2 eggs
3/4 C. sugar
1 teaspoon vanilla
1/2 C. coconut oil (softened), other neutral oil, or melted unsalted butter
1 large carrot, grated – yielding about 3/4 C.
1 medium zucchini, grated – yielding about 3/4 C.
1/4 C. walnuts, chopped
optional: 1/4 C. shredded coconut
Instructions:
Preheat oven to 350 degrees F. Grease a 9×9 inch glass pan.
In a small bowl, combine flours, flaxseed meal, salt, baking powder, baking soda, and cinnamon. Whisk together and set aside.
In a large bowl, mash the bananas. Add the eggs, sugar, vanilla, coconut oil, carrot, zucchini, walnuts, and coconut.
Fold in the dry ingredients from the small bowl into the larger bowl until moistened, but not over-mixed. Pour batter into prepared pan and bake for 40-45 minutes, or until toothpick comes out clean.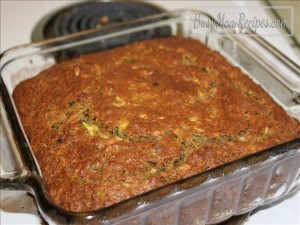 *Inspired by THIS recipe.