Fall is such an exciting time of year. Weather cools, leaves change colors, holidays are approaching. And don't you love seeing the Internet explode with mouth-watering pumpkin recipes?
These Whole Wheat Pumpkin pancakes were pretty mouth-watering themselves. But especially topped with homemade whipped cream. Really, I wanted to make whipped cream in the morning and have leftovers to use with our French Hot Chocolate. It was kind of a lot of whipped cream in just one day, but both recipes turned out delicious!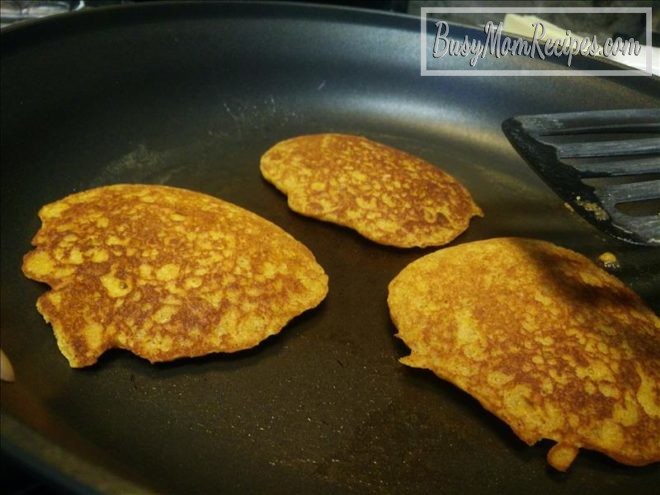 Pumpkin Pancakes (Whole Wheat)
Ingredients (serves 4… makes about 12 pancakes):
2 Cups whole wheat flour
2 Tbsp. baking powder
1 tsp. cinnamon
1/2 tsp. nutmeg
1/2 tsp. salt
4 Tbps. melted coconut oil
2 C. milk, warmed (so it doesn't harden the coconut oil)
2/3 C. pumpkin puree
4 Tbsp. brown sugar
1 tsp. vanilla
2 eggs
Instructions:
Whisk together the dry ingredients in a small mixing bowl.
In a large microwave-safe mixing bowl, melt the coconut oil and warm the milk. Add pumpkin puree, brown sugar, vanilla and eggs. Mix well.
Pour the dry ingredients into the bowl with the wet ingredients and whisk together until just mixed.
Heat a nonstick skillet to medium-low heat. When the skillet is hot enough (if a drop of water sizzles in there), then add a little butter.
Pour 1/4 C. of the batter for each pancake. Let cook on the first side for 2-3 minutes. Flip, and let cook about 1 minute on the second side. 
Serve warm with pure Maple syrup and whipped cream.
Hope you enjoy the warm, lovely smelling and tasty pumpkin pancakes!
*Inspired by THIS recipe.
Summary
Recipe Name
Pumpkin Pancakes (Whole Wheat)
Published On
Average Rating
Based on 1 Review(s)