This recipe is so simple and comes together quickly. Really, you can use just one bowl to mix everything together.
There are two things I love about this Greek Yogurt Banana Bread recipe. One, the only sweeteners I used were Maple syrup and bananas (the yogurt I used was also sweetened with a little honey). No brown or granulated sugar. The other thing I love is that there is no butter or oil in this recipe (not even an applesauce substitute). I don't mind having a little butter or coconut oil in my banana bread, but I just don't like using an extra dish to melt the butter or coconut oil in the microwave before mixing it with the batter. Keeps things simple and easy 🙂
Simple Greek Yogurt Banana Bread
Ingredients (makes 1 loaf in a 9×5 inch loaf pan):
2 medium ripe bananas
2 eggs
1/2 C. vanilla or honey Greek yogurt
1/4 C. pure Maple syrup
1/4 tsp. salt
1 1/2 tsp. baking soda
1 1/2 C. all-purpose flour
1/2 C. chopped walnuts (or dark chocolate chips)
Instructions:
Preheat oven to 350 degrees F. Grease one 9×5 inch bread pan (I usually just grease it with a little coconut oil). Place the bread pan on a rimmed cookie sheet and set aside.
In a medium mixing bowl, mash the bananas. Add the eggs, Greek yogurt, Maple syrup, salt and baking soda. Stir together. Add the flour and stir just until moistened. Fold the walnuts into the batter. 
Pour batter into greased bread pan and bake in preheated oven for 35-40 minutes. Remove from oven and let cool about 15 or 20 minutes in the pan. Remove from pan and place on cutting board or plate. Slice. 
Serve with a spread of butter, if desired.
*Inspired by THIS recipe.
Summary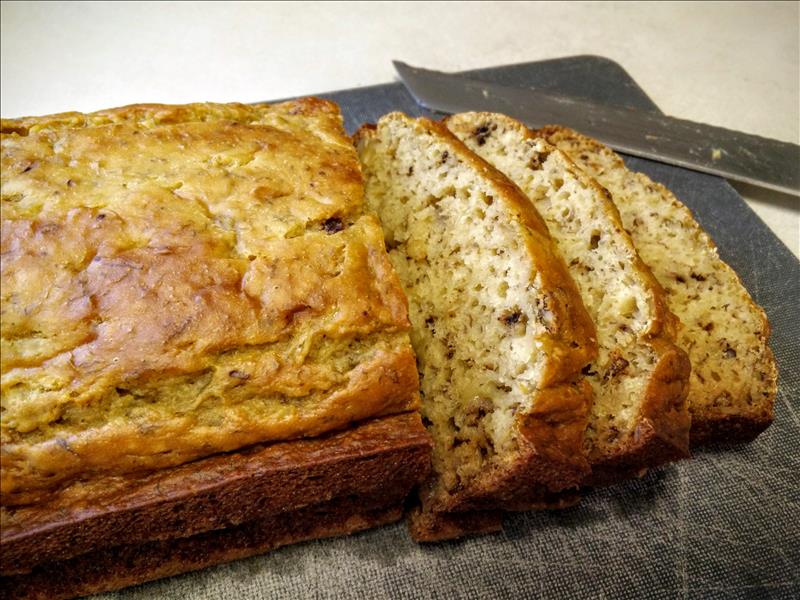 Recipe Name
Simple Greek Yogurt Banana Bread
Published On
Average Rating
Based on 2 Review(s)