It's rare for me to deviate from my go-to chocolate chip cookies, but it was time, and these ginger cookies are awesome! Thick, chewy, and probably healthier than your ordinary cookie 🙂
A week or so before Christmas last year, I spent just about all day (and it was even a hot day… not so great for baking) making gingerbread men. I had never made them before and thought, well, why not? Now I can tell you why not 🙂  The best part was the 10 minutes we spent decorating them as a family. That sort of made it worth it. A good rule of thumb might be to make gingerbread men once as a child, and then once as an adult.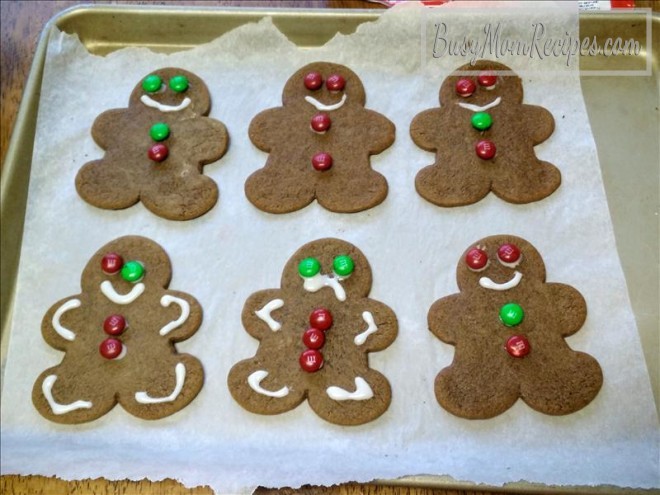 My kids seemed to have just as much fun rolling these ginger cookie dough balls in the Turbinado sugar as they did decorating those gingerbread men. And the ease of this recipe (not having to roll out the dough several times and use cookie cutters) combined with the unbeatable thickness and chewiness of the cookie makes these ginger cookies the winner recipe in our home 🙂 
Chewy Ginger Cookies with Molasses
Ingredients (yields about 18 cookies):
2 C. whole wheat flour
1/2 tsp. salt
1/2 tsp. baking soda
1 tsp. baking powder
1 tsp. cinnamon
1/2 tsp. ground ginger
1/2 tsp. ground cloves
6 Tbsp. coconut oil, melted
1/2 C. brown sugar
6 Tbsp. molasses
1 egg
3 Tbsp. raw Turbinado sugar in a cereal-sized bowl (to roll the dough balls in before baking)
Instructions:
In a small mixing bowl, stir together the whole wheat flour, salt, baking soda, baking powder, cinnamon, ground ginger and ground cloves. 
In a medium mixing bowl, combine the melted coconut oil (if you have a microwave-safe mixing bowl you can just put the coconut oil in there and heat it up for about 1/2 to 1 minute), brown sugar, molasses and the egg. Stir together. 
Add the dry mixture to the wet mixture and stir together until blended together. Place a piece of plastic wrap over the cookie dough and refrigerate it for 1-2 hours. 
Preheat oven to 350 degrees F. and line a cookie sheet with parchment paper. Roll the dough into about 1 1/2 inch balls, then roll each ball in the raw Turbinado sugar and place 6 dough balls evenly spread out on the parchment-lined cookie sheet. Gently press down on each one with the palm of your hand just a little bit (I forgot to do this for one of our batches, and they still turned out delicious, but the other ones just looked prettier).   
Bake in preheated oven for 6-9 minutes. Remove from oven and let sit for 3-5 minutes before transferring to a plate or cooling rack to finish cooling. 
Sit down, relax, and enjoy a couple ginger cookies 🙂
*Inspired by THIS recipe.
Summary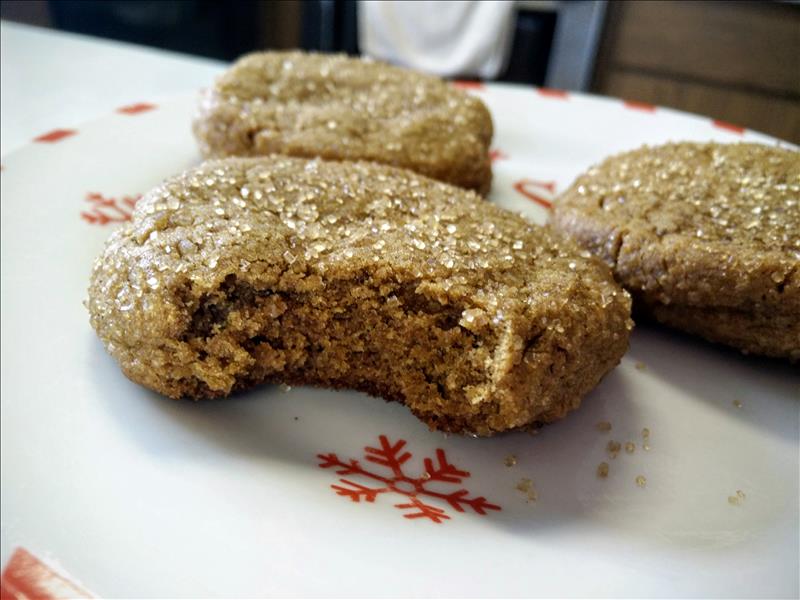 Recipe Name
Chewy Ginger Cookies with Molasses
Published On
Average Rating
Based on 2 Review(s)