We enjoyed this lemon cheesecake as an Easter dessert. It was delicious and super easy to make, but I think lemon is not my favorite flavor in a cheesecake. We have a lemon tree right outside our door, so lemons are convenient and free, but next time I'll replace the 1/3 cup of lemon juice with 1/3 cup of strawberry puree to make a strawberry cheesecake. Yummm 🙂
Easy Lemon Cheesecake Pie Recipe
Ingredients:
2 (8 oz) packages of cream cheese, softened in the microwave (I used the regular Philadelphia kind)
1 C. plain Greek yogurt (I used the kind with no milkfat) or sour cream
2 eggs
1/3 C. fresh squeezed lemon juice
1 tsp. vanilla
1/4 tsp. salt
whipped cream or Cool Whip for topping
extra lemon for zesting
Instructions:
Preheat oven to 325 degrees F. Place pre-made graham cracker crust on top of a cookie sheet.
In a large bowl, combine softened cream cheese, sugar, Greek yogurt, eggs, lemon juice, vanilla and salt. Beat well with an electric mixer until smooth. Pour into graham cracker crust.
Cover edges with foil so the crust doesn't burn. I used the plastic top that came with the crust to measure the foil and cut a hole in the middle of the foil. Then place on top of the actual pie and tuck the edges of the foil around the pie tin.  
Bake in preheated oven for 40-50 minutes (I baked for 45 minutes), or until the center is set but is also still a little wobbly. Remove from oven. Take off the foil carefully. Let the cheesecake cool for a few hours, then chill in refrigerator for about 5 hours or overnight. 
Before serving, top with whipped cream or Cool Whip and some lemon zest.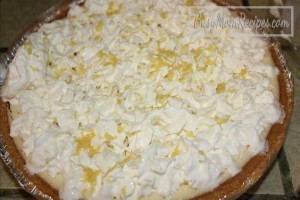 If your looking for a no-bake lemon pie, THIS recipe is awesome (my husband's favorite) and really easy to throw together.
*Inspired by THIS recipe.