American Goulash (pretty much elbow macaroni, ground beef and diced tomatoes) is something I've been wanting to make for a while now. Who knows why it has taken me so long, because wow! It was so easy to make and tasted great!
There are probably endless amounts of variations you could make. Add an extra can of diced tomatoes or a can of tomato sauce. Add a little ranch dressing. Add some kidney beans. Add bell pepper. Eat it with cottage cheese instead of or with the cheddar. However you like it 🙂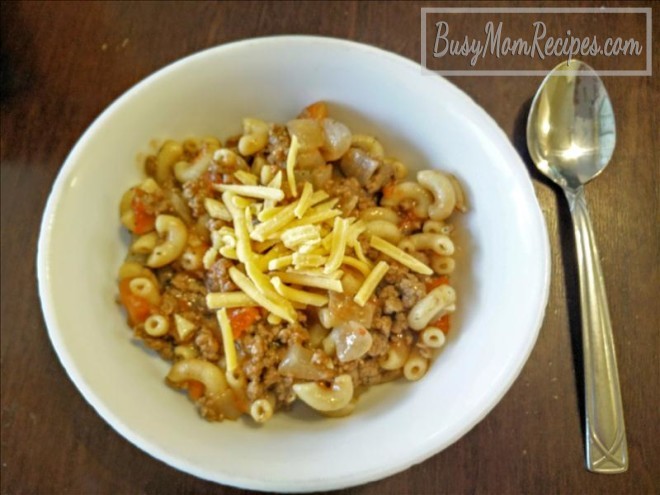 Easy American Goulash Recipe
Ingredients (about 6-7 servings):
1 Tbsp. light olive oil
3 cloves garlic, minced
1 yellow onion, chopped
about 1 lb. lean ground beef (I used a 90/10 ratio and didn't have to bother draining out the fat)
1/2 Tbsp. Italian Seasoning
1 can diced tomatoes
1 1/2 C. dry elbow macaroni
1 1/2 C. water
1/2 tsp. salt
optional: 1 C. grated cheddar cheese, or just some to garnish
Instructions:
Heat a large pot (that has a fitted lid) to medium heat. Add olive oil and swirl it gently to coat the bottom of the pot. Add garlic and onions. Saute until onions become translucent.
Crumble the raw ground beef into the pot with the garlic and onions. Cook thoroughly and add the Italian Seasoning.
Once the meat is all browned and cooked, add the diced tomatoes, elbow macaroni, water and salt. Bring to a boil. Cover with lid and reduce heat to medium/low and let simmer for 10-12 minutes, or until macaroni are soft enough to your liking.
Stir in the grated cheese if desired, or use the cheese as a garnish. Serve immediately.
Serve this goulash with hot cornbread and a ranch-style salad or fresh crispy vegetables like baby carrots, cucumbers or bell pepper slices.
*Inspired by THIS recipe.