Black Bean Turkey Chili Recipe
Ingredients:
2-3 Tbsp. olive oil
1 yellow onion, chopped
2 large (or 3 smallish) bell peppers (I used red and yellow)
salt
4 cloves garlic, minced (about 1 Tbsp.)
2 Tbsp. chili powder
1 tsp. ground Cumin
1 lb. ground turkey (or beef)
3 C. reduced sodium Swanson's chicken broth
1 tsp. dried Oregano
1 bay leaf
1 Tbsp. pumpkin puree (or tomato puree)
1 Tbsp. apple cider vinegar
2 (15 oz) can black beans, drained
1 (15 oz) can red kidney beans, drained
about 1/2 c. re-fried beans
salt and pepper to taste
Instructions:
Saute onions and bell peppers in the oil until onions become translucent (medium-heat).
Add ground turkey/beef, garlic, chili powder, and cumin. Mix and cook meat thoroughly. you can turn the heat up a little higher to do this.
When meat is cooked thoroughly, add chicken broth, Oregano, bay leaf, pumpkin puree, vinegar, and black and kidney beans. Stir together and bring to a boil. Reduce heat to a simmer, cover with lid, and let simmer for about 20 minutes covered.
Remove lid, stir, and let simmer uncovered for about 25 minutes (stirring about every 5 minutes or so), or until desired consistency.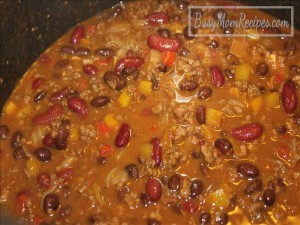 *Inspired by THIS recipe.