We love eating lentils around here! They are so tasty and nutritious. We often make Healthy Lentil Soup and once decided to make a Curried Lentil Soup recipe. Love both <3  I was looking for a curried lentils recipe that would work well as a side dish, and that could be served on a plate. Found a great one from BudgetBytes. I added a can of coconut milk to make the lentils creamier, and added a half cup more lentils.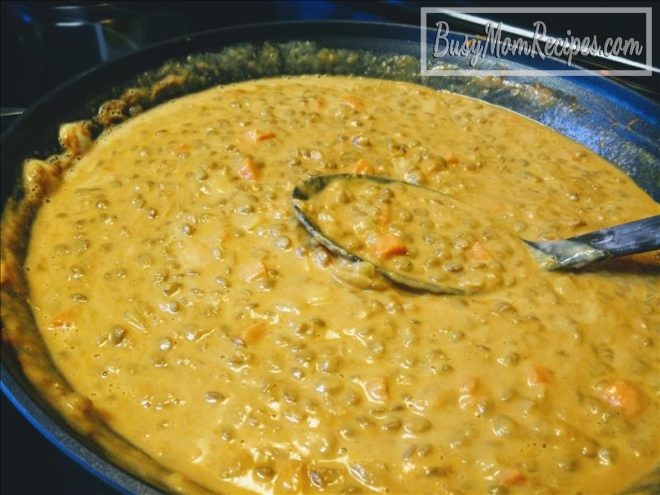 This curried lentils recipe comes together pretty quickly and leftovers still tasted great for the next few days, which might mean a little break from cooking 😉
Curried Lentils (Vegan)
Ingredients:
1 1/2 C. uncooked brownish green lentils
4 C. water
1 Tbsp. light olive oil or avocado oil
2 cloves garlic, minced
1 medium yellow onion, diced
3-4 medium carrots, chopped
2 Tbsp. curry powder
1 (15 oz) can tomato sauce
1 (15 oz) can coconut milk (I like this golden star kind since the ingredients are just coconut milk and water… no extra things like guar gum)
1/2 tsp. salt (or to taste)
optional: cilantro
Instructions:
Sort lentils (take out any little rocks). Rinse and drain (I love using a fine mesh strainer since the lentils are just about the size of the holes on my colander). Bring 4 C. of water to a boil in a medium pot, then add the lentils. Stir and bring to a boil. Turn the heat down to low and cover with lid. Simmer for about 20 minutes (while you move on to step 2 below), or until lentils are tender. Gently drain the excess water from the cooked lentils.
Heat a large skillet to medium heat. Swirl the oil in the pan. Add the onions and saute for a couple minutes. Then add the carrots and garlic. Saute until the onions are transparent and the carrots are tender. Add the curry powder and saute about 2 minutes more. Add the cooked lentils and tomato sauce. Stir and heat through for about 5 minutes.  
Turn off the heat. Add the salt and the can of coconut milk. Stir until the coconut milk is melted in. 
Top the curried lentils with cilantro if desired. You can eat this on it's own, or eat it on top of brown rice or whole wheat toast for a delicious and nutritious meal (as you can see below, I served these lentils w/ whole wheat toast, hard boiled eggs and grapes).
Enjoy!
*Inspired by THIS recipe.
Summary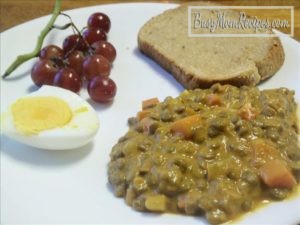 Recipe Name
Published On
Preparation Time
Cook Time
Total Time