My sister-in-law recently gave me a beautiful little spice rack, which included Herbes De Provence, a combination of Basil, Marjoram, Thyme, Sage, Savory, and Rosemary. Herbes De Provence is THE ingredient that has been missing in my roasted chicken thighs all these years! It seriously adds the best flavor to chicken. This is a very simple recipe. You can take the chicken thighs straight out of the freezer and have them in the oven in just a few minutes, ready to eat in about an hour. Feel free to throw in some chopped potatoes and/or other vegetables with the chicken to make dinner even easier tonight. 🙂 Your kitchen is going to smell wonderful and you can just sit down and relax while your savory dinner cooks up.
[Update: I actually wrote this post a while back, before trying the SIMPLE CHICKEN DRUMSTICKS recipe. In my opinion, they both are super easy and tasty! ]
Ingredients:
frozen chicken thighs, with or without skin and bones
olive oil (1-2 Tbsp.)
salt and pepper
garlic powder
Instructions:
Preheat oven to 375 degrees F.
Rinse each chicken thigh with warm water to melt off the ice. Place in glass baking dish (big enough for the chicken to be in a single layer). Pat dry with paper towels.
Drizzle olive oil on top of chicken. Sprinkle salt, pepper, garlic powder, and herbs de provence on top and rub the seasonings and oil all around the chicken.
Bake in preheated oven (uncovered) for about 1 hour, or until chicken is cooked thoroughly and juices run clear.
Goes great with potatoes or rice and veggies! Enjoy the delicious roasted chicken thighs!
*Inspired by THIS recipe.
Summary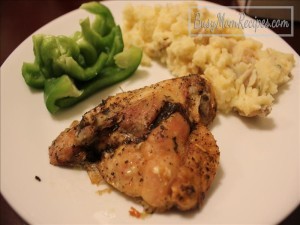 Recipe Name
Roasted Chicken Thights with Herbes De Provence
Published On
Cook Time
Average Rating
Based on 4 Review(s)