Minestrone Soup is a great way to pack a variety of vegetables into one meal! You've got onions and garlic. Celery and carrots. Tomatoes. Zucchini and yellow squash. And even a leafy green… spinach. And no need for broth. The soup turns out flavorful and delicious with the vegetables and seasonings themselves.
(update: Just had some leftovers of this soup and added a spoonful of homemade pesto and a good amount of shredded cheese, stirred it all up so the cheese was nice and melty and it was very tasty. Not vegan anymore, but tasty!)
Minestrone Soup (Vegan)
Ingredients:
1 Tbsp. olive oil
1 large yellow onion, diced
4-5 cloves garlic, minced
3 carrots, grated and chopped
3 stalks of celery, chopped
1 (15 oz) can diced tomatoes
1 (15 oz) can tomato sauce
2 can-fulls of water plus 1 Cup of water
1 medium/large green zucchini, chopped
1 medium yellow squash (yellow zucchini), chopped
One (15 oz) can Canellini beans, rinsed and drained
One (15 oz) can red kidney beans
1 1/2 tsp. salt
1/2 tsp. black pepper
1 tsp. Oregano
1/2 tsp. Thyme
1 Cup small dry pasta
2 big handfuls of baby spinach
about 3 Tbsp. fresh basil, chopped (plus more for garnish)
Instructions:
Heat a large soup pot to medium heat. Swirl olive oil to coat the bottom of the pot. Add onions and garlic and cook, stirring frequently, until onions are translucent.
Add the carrots, celery, diced tomatoes and tomato sauce. Increase heat to medium-high. Cook about 10 minutes.
Add the water, zucchini, yellow squash, cannellini and kidney beans, salt, pepper, oregano and thyme. Let cook about 10 minutes.
Add the dry pasta. Cook another 10 minutes, or until carrots are tender enough to pierce with fork.
Stir in the baby spinach and 3 Tbsp. of fresh basil.
Serve the soup garnished with a little more fresh basil and/or Parmesan cheese if desired (we didn't use Parmesan and the soup was still very tasty).
*Inspired by THIS recipe, and HERE is another yummy soup recipe to try.
Summary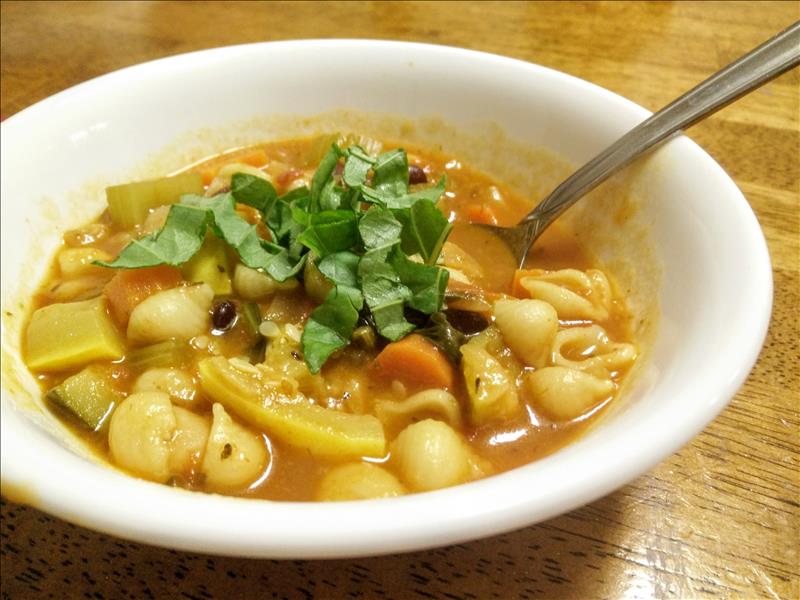 Recipe Name
Published On
Average Rating
Based on 2 Review(s)