My son recently started learning Japanese in school. One day he got to make and eat Onigiri at school, and it has become one of our go-to dinners/lunches because it's really quick to throw together and my family enjoys it. Sometimes we really simplify this recipe, like literally only use rice and seaweed. Or mix in some sesame seeds with the rice before wrapping the seaweed around it. You can get creative with the presentation too. Here is a picture of my daughter's plate 🙂
I like to  use hot rice that is still steaming, and put about 2 spoonfuls on the seaweed in different sections, and roll it up kind of like sushi. This helps the dry seaweed soften and have a chewier texture.
Also, the way my son taught me to make onigiri is to get our hands wet with water, and sprinkle salt on them, and then mold the rice into a ball shape. We did this the first time we made it and it got pretty messy. But I noticed the rice usually stuck together pretty well on it's own, so now we just use a spoon to scoop the rice directly onto the strips of seaweed.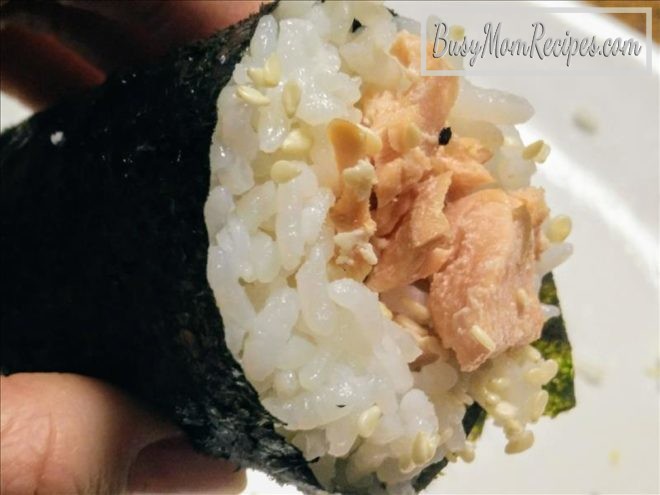 Onigiri (Japanese Rice Ball)
Ingredients:
Instructions:
Cook rice according to package instructions (if we are cooking 1 C. dry rice (nice amount for a family of four), I usually add about 1/2 tsp. salt to it).
Use clean kitchen scissors to cut the strips of seaweed. We usually make the strips about 2 or 2 1/4 inches wide.
If you want to stir some sesame seeds or a little more salt into the rice, do that now. Then place some rice and an optional filling ingredient like salmon or a slice of avocado on a strip of seaweed and roll it up like sushi or wrap the seaweed all around the rice/filling.
Goes great with fresh fruit on the side, like mango! 
*Inspired by my son and THIS recipe.
Summary
Recipe Name
Onigiri Japanese Rice Ball
Published On
Average Rating
Based on 1 Review(s)