These Quinoa Patties are SO yummy! And not to mention, they are easy to make, smell great, have a crispy outside, and are healthy. Quinoa is high in fiber, iron, and protein.
We ate these Quinoa Patties with carrot sticks, but they'd be great with full-on salad too!
Quinoa Patties Recipe
Ingredients (10-12 patties):
2 C. cooked Quinoa (see instruction #1 on how to cook Quinoa)
3/4 C. shredded cheddar cheese (I used Open Nature Medium Cheddar)
1/2 C. cottage cheese (I used 4 % milkfat and large curd)
1 C. packed finely chopped kale (or zucchini squeezed dry, or grated carrot)
about 1/4 C. chopped green onions (including the white part)
3 eggs
4 Tbsp. all-purpose flour
1/2 tsp. sugar
1/4 tsp. cumin
1/4 tsp. black pepper
1/8 tsp. salt
1/8 tsp. garlic powder
olive oil for frying
Instructions:
To cook the Quinoa, bring 2 C. water and 1/2 tsp. salt to a boil. Stir in 1 C. uncooked Quinoa and reduce heat to low. Cover, and simmer for 18-20 minutes, or until water is absorbed. This will make just over 2 C. of cooked Quinoa.
While the Quinoa is cooking, get out a large mixing bowl. Combine cheddar cheese, cottage cheese, kale or zucchini or carrot, green onions, eggs, flour, sugar, cumin, black pepper, salt, and garlic powder.
When the Quinoa is done cooking, add 2 cups of it to the mixture in the bowl. Mix together well with a spoon.
Heat a pan to medium-low heat. Add about 1 Tbsp. olive oil and carefully swirl around to coat the bottom of the pan.
Add 1/4 C. of the mixture for each patty (I cooked them in batches of three). Flatten to about 1/2 inch thick with a spatula. Cook for 4-6 minutes on each side. Add a little olive oil before cooking the next batch if the pan is looks dry.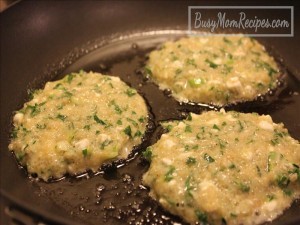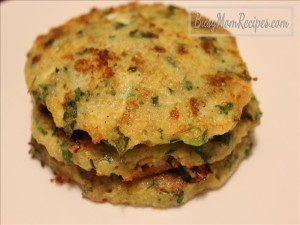 *Inspired by THIS recipe.