Burritos have to be one of my favorite foods. I love the variety of ingredients you can add. It's really like a meal itself.
I've been wanting to make black bean and sweet potato burritos for a while now, and finally got around to it. Yay! We were surely not disappointed. The black bean and sweet potato mixture makes these vegetarian burritos very healthy and very tasty!
I hope you enjoy these burritos! And be sure to check out THIS vegetarian burrito recipe too— it's another great one!
Vegetarian Burritos (Black Bean & Sweet Potato)
Ingredients:
2 small/medium sweet potatoes, peeled and chopped into small cubes
1 jalapeno, seeded and diced
1 small red onion, diced
1/4 tsp. ground black pepper
1/2 tsp. salt (plus a little more if needed)
1 tsp. cumin
1 tsp. chili powder
2 tsp. olive oil
1 (15 oz) can black beans, rinsed and drained
juice of 1 lime
1 1/2 C. grated cheese (I used Monterey Jack because that's what we had, but you can also use cheddar)
about 1/2 C. chopped cilantro (more or less depending on your preference)
sour cream and diced or sliced avocado
6-8 soft taco sized whole wheat tortillas
Instructions:
Preheat oven to 425 degrees F. and pull out a rimmed cookie sheet.
Combine cubed sweet potatoes and diced jalapeno and onion into a medium mixing bowl. Add black pepper, salt, cumin, chili powder and olive oil. Stir together and then dump onto baking sheet. Roast in the preheated oven for about 10-15 minutes, or until veggies are tender but not too mushy.
In the bowl, stir together the rinsed and drained black beans, lime juice and grated cheese (and cilantro if you want). When the veggies are done, stir them into the black bean mixture. Now you have some really delicious burrito filling! 
Add some of the filling to each tortilla, adding some sour cream and avocado (and cilantro if it isn't already added to the filling mixture). Fold up into a burrito and serve. (If you want, you can just put the filling in the burritos and serve with the sour cream and avocado on the side or on top of the burritos).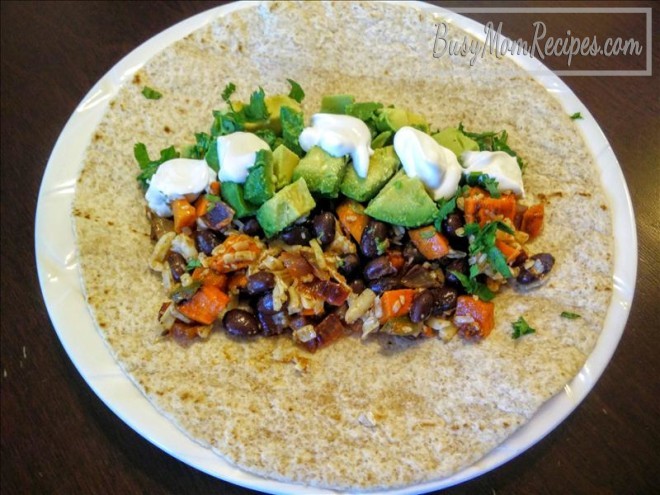 So many fresh ingredients in this recipe!
*Inspired by this BLACK BEAN AND SWEET POTATO BURRITOS recipe.
Summary
Recipe Name
Vegetarian Burritos (Black Bean and Sweet Potato)
Published On
Average Rating
Based on 1 Review(s)