Spaghetti can be made in several different degrees of healthiness and flavor. I used to love eating enriched spaghetti noodles drizzled with a little olive oil and sprinkled with salt and pepper. The simplicity was beautiful, and even adding a few green herbs like basil or oregano brightened it up a bit.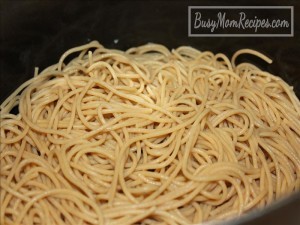 Then came my cheese craze. I would often be asked "do you need any more spaghetti to go with that cheese?". Thankfully my cheese craze is finally simmering down, after about 15 years…
And I remember when my dad started buying whole wheat spaghetti noodles. Our nanny learned to just bring her own enriched kind because whenever she made the whole wheat stuff, nobody would eat it.
There was a time when I loved a good, meaty spaghetti sauce. Oily, but also with lots of vegetables too.
And those college times, when I used the pre-made sauces. And it usually didn't taste very good.
My husband and I love making our own spaghetti sauce now. We pack in the vegetables (because really, it seems like there's never enough!). Sometimes we add a little ground beef, but most the time we make it vegetarian-style.
And I don't know if companies are making whole wheat spaghetti yummier than it used to be, but we always use it now and it tastes perfectly fine! The sauces we make are a little different every time. One example is below. We also love adding zucchini and yellow squash sometimes.
Vegetarian Spaghetti Sauce Recipe
Ingredients:
about 2 Tbsp. olive oil
4 cloves garlic, minced
1 large yellow onion, chopped
1 large green bell pepper, chopped
8 oz. sliced mushrooms
1 (28 oz) can crushed tomatoes
1 tsp. dried basil
3/4 tsp. dried oregano
1/2 tsp. salt
12 oz. whole wheat spaghetti noodles, cooked according to package
Instructions:
 Heat skillet to medium heat. Add olive oil. Add garlic and onions. Cook  until onions begin to turn translucent.
Add bell pepper and mushrooms. Cook for about 7 minutes, or until they are cooked enough to eat. Drain out any extra liquid.
Add can of crushed tomatoes, basil, oregano, and salt. Stir and simmer for 5-10 minutes.
Top cooked spaghetti with the sauce. You can sprinkle a little cheese on top if desired.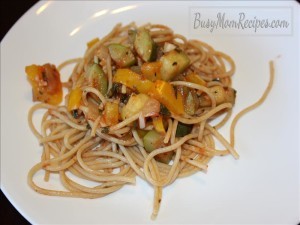 Goes great with a Romaine lettuce salad and some EASY GARLIC  BREAD STICKS.
Summary
Recipe Name
Vegetarian Spaghetti Sauce
Published On
Preparation Time
Cook Time
Total Time