Every time I eat broccoli salad I think to myself "This is so good! I'm totally going to ask whoever made it for the recipe and make it at home!" But somehow I always forget to ask for the recipe. Two other things that have been holding me back from making broccoli salad is 1.) Will the salad still be good without bacon in it? If I have to cook bacon, the recipe goes from quick and easy to long and messy and greasy. and 2.) For some reason I like using up the whole onion and not saving part in the fridge for later. However, if I add the whole onion to the salad, it will taste like onion salad instead of broccoli salad.
I'm happy to report that there was already leftover red onion in the refrigerator today (made THIS salad earlier this week and knew I'd have to use up the two heads of broccoli soon)… just the right amount of onion for this broccoli salad.
We definitely recommend toasting your almonds and sunflower seeds to add such a beautiful flavor to the salad. My husband even forgave me for putting vinegar in the recipe b/c the toasted almonds were so flavorful 😉 To toast the almonds and sunflower seeds, just heat a cast iron skillet to medium or medium-high heat. Swirl a teaspoon or so of light olive oil to coat the bottom of the skillet. Stir in the raw almonds and sunflower seeds (I toasted the almonds and then decided to add sunflower seeds, but you can probably just toast them together at the same time). Give them a stir every 20 seconds or so, depending on the heat of the skillet. You can add a pinch of salt too. Once they are getting that golden brown look, spoon them out of the skillet and onto the salad.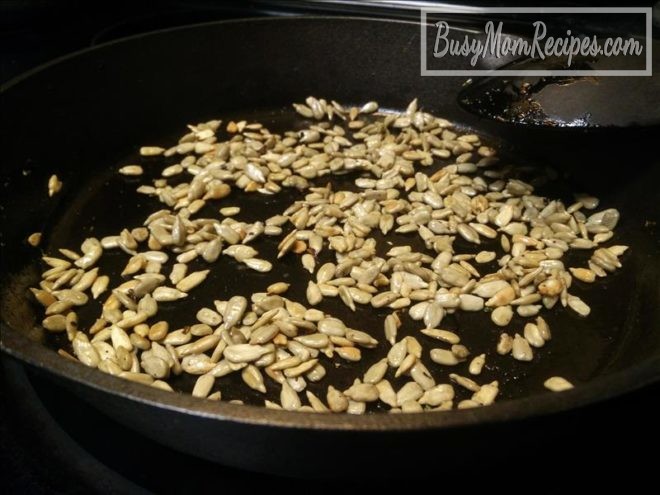 Broccoli Salad (Vegetarian)
Ingredients (for about 6 servings):
1/4 C. red onion (diced into small pieces)
1/4 C. real mayonnaise
3 Tbsp. plain whole milk yogurt
1 Tbsp. honey
1 Tbsp. apple cider vinegar
1/4 tsp. salt
1/4 tsp. ground black pepper
5 C. coarsely chopped broccoli florets (about 2 medium heads of broccoli)
1/3 C. dried orange flavored cranberries 
1/3 C. coarsely chopped almonds, toasted
1/3 C. sunflower seeds, toasted
Instructions:
Soak the diced red onion in cold water for 5-10 minutes. Drain water.
In a medium salad bowl, stir together mayonnaise, yogurt, honey, apple cider vinegar, salt and pepper. 
Add the broccoli florets, dried cranberries, toasted almonds and toasted sunflower seeds to the dressing. Mix together. Cover and refrigerate until ready to serve. (We only had it in the fridge for about 20 minutes before serving and it tasted great!)
This broccoli salad would go well with mashed potatoes and chicken (or just mashed potatoes, as you see below). It would also be the perfect side dish to bring to a potluck or BBQ!
*Inspired by THIS recipe.
Summary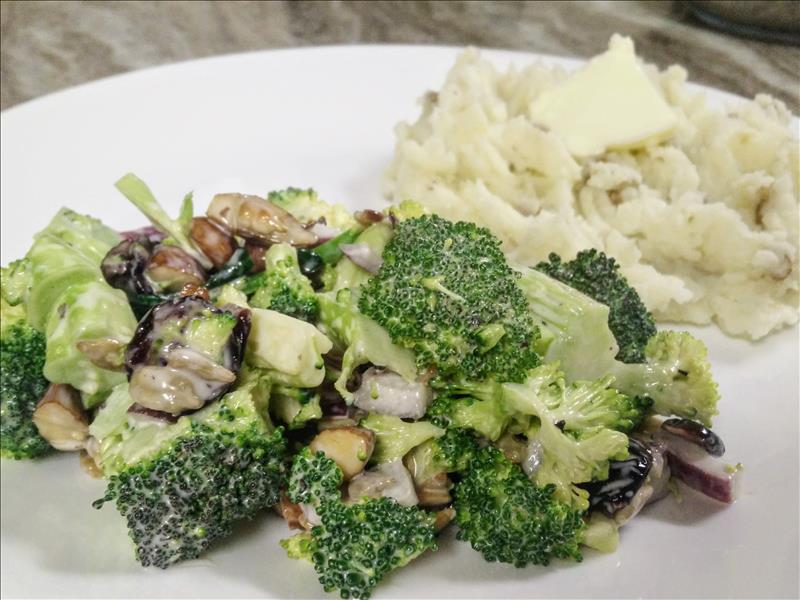 Recipe Name
Broccoli Salad (Vegetarian)
Published On
Average Rating
Based on 1 Review(s)