The cheese sauce for this homemade mac and cheese turned out smooth and creamy. I love that you can eat mac and cheese with just about anything. I sauteed a chopped up jalapeno and added it to half this batch of macaroni and cheese. It added a little kick.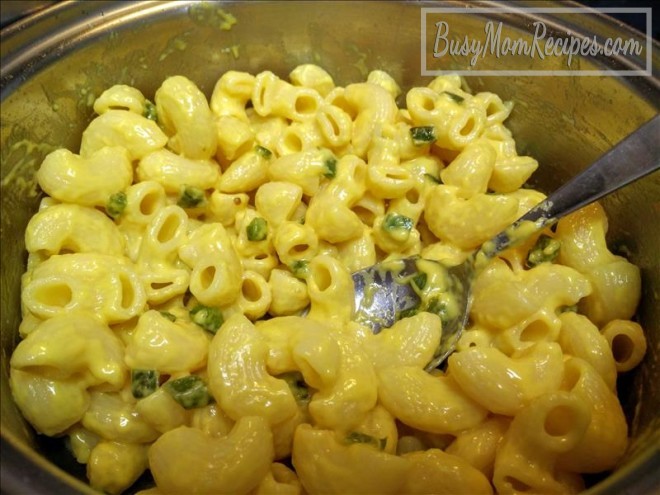 You can add green peas, ham, chicken, bacon, broccoli, etc. I had a huge container of arugula in our refrigerator, so I topped my macaroni and cheese with arugula. It was delicious and the contrast of the orange and green was lovely.
Homemade Mac and Cheese on the Stove
Ingredients:
1 lb. pasta (you can use macaroni or any other kind you like)
1 1/2 C. whole milk, separated
2 Tbsp. all-purpose flour
2-3 C. medium or sharp cheddar cheese, grated (I grated my own… not sure if you'll get the same smooth consistency if you use the pre-grated kind)
1/2 tsp. salt (or to taste)
1/2 tsp. turmeric powder
Instructions:
Cook pasta al dente, according to its package directions. Drain and set aside.
In a medium saucepan, add only 1 Cup of the milk over medium heat.
In a small cereal bowl, whisk together the flour and the last 1/2 C. of milk. Set aside. When you start to see bits of steam coming from the warm milk, whisk in the milk/flour mixture. Continue whisking until the milk thickens to about a heavy cream consistency.
Turn the heat to very low, and whisk in the grated cheese until smooth. Stir in the salt and turmeric powder. Add a little more salt if desired.
Pour cheese sauce over the cooked pasta, stir and serve warm! 
*Inspired by THIS recipe.
Summary
Recipe Name
Homemade Macaroni and Cheese on the Stove
Published On
Average Rating
Based on 1 Review(s)