This pan seared chicken is flavorful and moist!  Comes together in about 20 minutes. You can use chicken breast, but I personally like cooking with chicken breast fillets because they are thinner (quicker to cook and easier to eat).
Pan Seared Chicken Breast Fillets Recipe
Ingredients:
3 chicken breast fillets (if you use chicken breast, you may have to cook them a little longer since they are thicker than fillets)
kosher salt and/or regular table salt
ground black pepper
Herbes de Provence seasoning (or other poultry seasoning of choice)
Instructions:
Heat a pan to medium-high heat. Add about a tablespoon of light olive oil, or enough to coat the bottom of the pan generously.
Gently set each chicken breast fillet into the pan. Sprinkle each generously with salt, pepper, and Herbes de Provence (or other poultry seasoning). Cook without moving the fillets for about 2-3 minutes, or until bottoms are browned. 
Flip each fillet over and sprinkle each again with salt, pepper, and poultry seasoning. Let cook 2-3 minutes. Put about a tsp. of water into a lid, then put the lid on top of the chicken. Turn heat to low and set a timer for 12 minutes. Do not lift up the lid during these 12 minutes! 
When your timer rings, lift the lid and use a sharp knife (carefully) to slice through the thickest parts of the chicken. If there is any pink, replace the lid and cook another 5 minutes or so. Repeat if necessary until there is no more pink meat. When there is no pink, transfer the chicken onto a plate. Slice or cube as desired.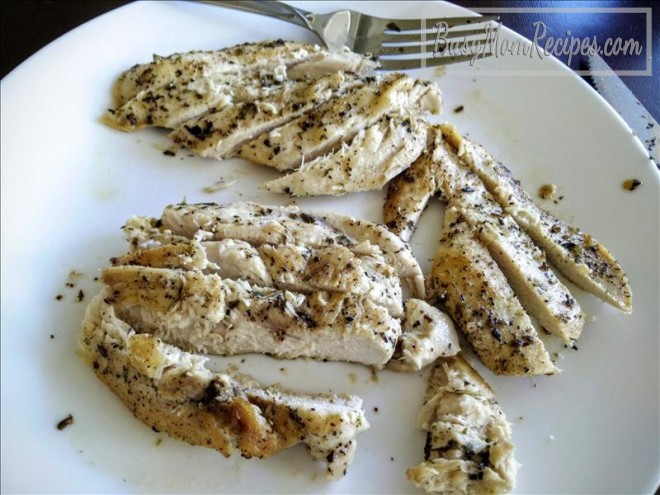 This chicken is amazing on it's own, but would be great tossed in a salad! We nibbled on some of it then threw the rest into PANCIT CANTON NOODLES (will post recipe next week, so be on the lookout!).
*Inspired by Olivia, who was inspired by Maple.
Summary
Recipe Name
Pan Seared Chicken Breast Fillets
Published On