When I told my sister about how we're trying out a more plant-based diet around here, she gave me a few recipe ideas to try. Quinoa salad was one of them, and I'm so glad she suggested it!
I found a recipe online that looked delicious, but knew that about half the ingredients were a no-go with my family. So I ended up making it with the ingredients my family would actually eat (and hopefully enjoy!). It ended up being very easy to make and it is just a simple, basic quinoa salad that turned out really good!
This is a great recipe to make during the Summer. You chill it in the refrigerator for about half an hour before serving. The salad is light, fresh and healthy.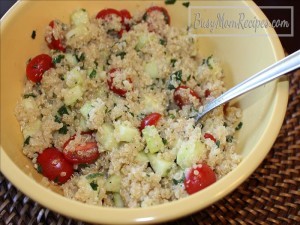 Quinoa Salad Recipe
Ingredients:
2 C. water
1 C. uncooked quinoa (rinsed well) (this makes about 3 C. cooked. I only used about 2 C. cooked, but add more or less depending on your preference.)
1 clove garlic, minced (about 1 tsp.)
2-3 Tbsp. extra-virgin olive oil
2 Tbsp. lemon juice
1 1/2 C. grape tomatoes (quartered or halved) HERE is an awesome technique to halve them!
2 large-ish pickling cucumbers, peeled and chopped
about 1 C. parsley, finely chopped
about 1 1/2 C. frozen spinach
salt and pepper to taste
Instructions:
Cook quinoa according to its package instructions (bring the 2 C. of water to a boil, add the rinsed quinoa, cover and simmer for 15-20 minutes, or until water is absorbed. Fluff with a fork). Crumble the frozen spinach into and add the chopped parsley to the hot quinoa so they get somewhat cooked/softened.                                                                                                  Let cool.
In a small bowl, combine the minced garlic, lemon juice, and olive oil. Let sit for about 20 minutes to let the flavors blend.                                                                                                                                                                     This is going to be the quinoa salad dressing.
Once the quinoa is about room-temperature, dump  into a mixing bowl/serving dish and add in the chopped tomatoes and cucumber. Drizzle on the garlic/lemon/olive oil dressing and sprinkle with a little salt and pepper. Toss together, cover, and let sit in the refrigerator for about 30 minutes before serving (to chill and let the flavors blend).
*Inspired by Olivia and THIS recipe.