This banana boat recipe a yummy fresh snack or dessert you can throw together in no time!
Banana Boat Recipe
Ingredients (1-2 servings):
banana
whipped cream (you can use yogurt to make a healthier version)
berries
mini chocolate chips
Instructions:
Peel the banana. Slice in half length-wise and place in a bowl. Top with whipped cream (or yogurt), berries, and mini chocolate chips. Enjoy!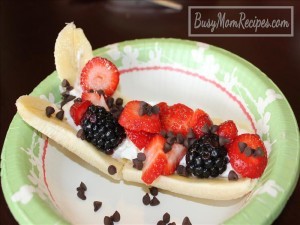 Several months ago I tried making campfire banana boats in the oven, like THIS recipe. It was a complete fail. They turned out dark brown inside and out, and very runny. It was disgusting and we threw them out. Never again will I make banana boats in the oven! Fresh is best. 🙂