This chocolate chip pumpkin bread is delicious! Moist and sweet and chocolatey. Even though it is sweet, I can justify it as a good mid-morning snack because of the bit of whole wheat flour and pumpkin inside. 🙂
Chocolate Chip Pumpkin Bread Recipe
Ingredients (makes two loaves):
2 C. all-purpose flour
1 C. whole wheat flour
2 tsp. cinnamon
1/2 tsp. ground nutmeg
1 1/2 tsp. baking powder
1 tsp. baking soda
1 tsp. salt
about 1 C. plus 1/4 C. chocolate chips (semi-sweet)
1 1/2 C. granulated sugar
1/2 C. packed brown sugar
3/4 C. (about 6 oz) vanilla yogurt
3 eggs
1/2 C. Canola oil
1 tsp. vanilla
Instructions:
Preheat oven to 350 degrees F. and lightly grease 2 (9×5 inch) loaf pans. Get out a medium and a large mixing bowl.
In the medium bowl, whisk together the all-purpose flour, whole wheat flour, cinnamon, nutmeg, baking powder, baking soda and salt. Put 1 C. of the chocolate chips in a small bowl and sprinkle about 1-2 tsp. of the flour mixture on top of the chocolate chips and mix around (this should help the chocolate chips not fall to the bottom of the bread pan while baking). 
In the large bowl, whisk together the granulated and brown sugar and get any lumps out. Add yogurt, pumpkin puree, eggs, oil and vanilla. Stir together until smooth.
Add dry flour mixture to the wet mixture and stir just until moistened. Fold in the chocolate chips (the 1 C. with a little of that flour mixture around them).
Distribute batter evenly into the two greased bread pans. With the last 1/4 C. chocolate chips, sprinkle some on top of the batter and chop a few up and sprinkle the chopped ones on top too. Just to make them pretty. 
Bake in preheated oven for 45-55 minutes. Definitely check at 45 minutes and watch the bread closely if you need to cook a little longer.
Let cool in bread pans for about 3-45 minutes. Remove from bread pans before slicing.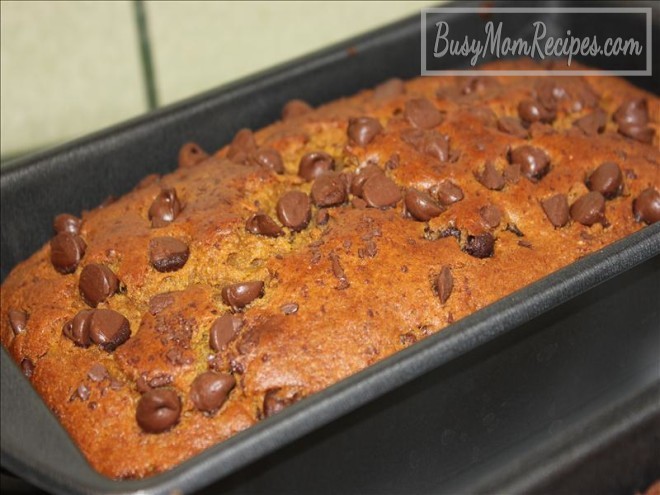 *Inspired by THIS recipe.
Summary
Recipe Name
Chocolate Chip Pumpkin Bread
Published On