These festive cranberry orange muffins are sweet with a touch of tartness. They smell great while baking and look very pretty. 🙂
Cranberry Orange Muffins Recipe
Ingredients:
2 C. all-purpose flour
3/4 C. granulated sugar + a little more for sprinkling on top
2 tsp. baking powder
1/2 tsp. baking soda
1/2 tsp. salt
1 C. cranberries, rinsed and coarsely chopped
2 tsp. orange zest (from 1 orange)
3/4 C. orange juice
1/4 C. Canola oil
1 egg
1/2 C. pecans, chopped
Instructions:
Preheat oven to 400 degrees F. and lightly grease a muffin pan.
In a bowl, stir together 3/4 C. sugar and the chopped cranberries. Let sit for about 5 minutes.
Mix in flour, baking powder, baking soda, and salt. Set aside.
In a separate bowl, mix orange zest, orange juice, vegetable oil and egg with a whisk or hand mixer. Stir in the pecans.
Pour the wet mixture into the bowl with the dry mixture and stir just until moistened.
Spoon batter into muffin cups, filling about 1/3 of the cup (this makes about 24 small muffins— perfect for little hands).
Lightly sprinkle sugar on top of the batter in the muffin cups.
Bake in preheated oven for 9-11 minutes, or until toothpick comes out clean.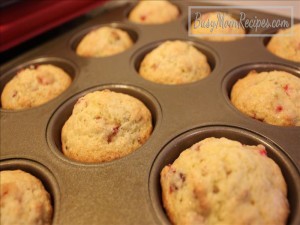 *Inspired by THIS recipe.