My first time making simple homemade bread! … the kind of bread that calls for yeast and includes kneading and waiting. Even though this recipe is easy enough for a beginner, the bread still turns out amazing! If my step by step instructions are not clear enough (or if you'd like to see more pictures of the process), feel free to visit the link at the bottom of the page to get a better idea of how to make the bread.
Simple Homemade Bread (Great Depression Era)
Ingredients (makes 2 loaves):
4 1/2 C. all-purpose flour
1 1/2 tsp. salt
1 1/2 Tbsp. yeast
1 1/2 C. warm water
about 1 Tbsp. olive oil (or some cooking spray- I like coconut oil cooking spray)
Instructions:
In a bowl, stir together flour and salt.
Make a small hole in the middle of the flour mixture and pour in the yeast in the hole.
Pour warm water in the hole with the yeast and mix with your finger to dissolve.
Continue mixing/kneading until there is no more loose flour in the bowl (or until you have a dough ball). If you need to add a little more warm water than the 1 1/2 C., then go ahead and do it just a little bit at a time until you have enough.
Remove dough ball from the bowl. Wash and dry the bowl, then spread the olive oil on the bottom and sides of the bowl.
Place the dough ball back into the oiled bowl. Flip it over once. Cover top of bowl with a dish cloth and place the bowl in a warm area.
Wait about 1 hour for the dough to rise.
Punch down the dough, then divide it into two sections (shaped somewhat like a mini loaf of french bread).
Place each section on a lightly floured cookie sheet or in a bread pan. Cover with a cloth and let rise about 1/2 hour more.
Preheat the oven to 350 degrees F.
Remove cloth and cook on center rack in the oven at 350 degrees F. for about 30 minutes.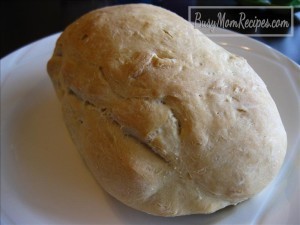 *I found this recipe HERE, by Tiffany,  and just changed the proportions a little bit.
Summary
Recipe Name
Simple Homemade Bread (Great Depression Era)
Published On
Preparation Time
Cook Time
Average Rating
Based on 1 Review(s)