Oh my goodness, these biscuits are so good! I usually make Baking Powder Biscuits, but wanted to try using butter instead of shortening. This looked like an easy enough butter biscuit recipe and boy am I glad we gave it a try. 🙂
These biscuits are fluffy and flakey. Crispy on the bottoms and the tops. We served them with some pan-cooked salmon patties, fresh bell pepper slices and steamed zucchini. Everything came together pretty quickly and the dinner was delicious!
I'd love to try making these for breakfast sometimes, served with sausage and fresh fruit. Yum!
Flakey Butter Biscuits
Ingredients (makes 12 biscuits):
2 C. all-purpose flour
3 tsp. baking powder
1/2 tsp. salt
1/2 tsp. cream of tartar
1/2 C. (or 1 stick) cold/frozen butter, cut into smaller pieces
1 Tbsp. honey
2/3 C. milk (I used whole milk) plus about 1 tsp. milk
Instructions:
Preheat oven to 450 degrees F. and line a baking sheet with parchment paper.
In a bowl, combine honey and 2/3 C. milk. Stir and set aside (if you let it just sit for about 15/20 minutes, the honey dissolves into the milk).
In another bowl, combine flour, baking powder, salt and cream of tartar. Whisk together well.
Add the chopped up cold/frozen butter pieces to the flour mixture. Cut the butter in with two butter knives until the pieces get smaller, about pea-sized (I got impatient and some of the butter chunks were bigger and the biscuits still turned out amazing).
Stir in the milk/honey mixture until everything is moistened (then put about a tsp. of milk into the bowl and set aside). Knead a few times with your hand to get it all together. Fold the dough in half, press down gently. Fold in half again and press down gently. You can do it a third time too. This helps create the layers while baking.
On a lightly floured surface (like a cutting board), gently press the dough down with your hands or a rolling pin until it's about 3/4 inch high. Cut into 12 pieces. Brush the teaspoon of milk onto the tops of the biscuits (or just use a clean finger to do this). Place each biscuit on the baking sheet and bake in preheated oven for about 9-11 minutes, or until golden on the tops.                                                                  
You can spread a little salted butter on the tops right after they come out of the oven if desired. Serve hot!
*Inspired by THIS recipe.
Summary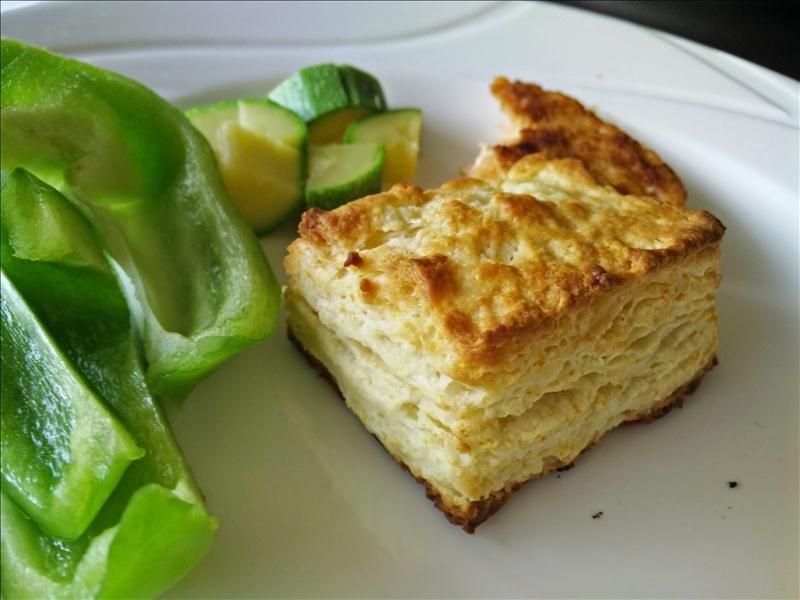 Recipe Name
Published On
Average Rating
Based on 1 Review(s)