This is my go-to chocolate chip cookie recipe. I just love how chewy the cookies turn out and it makes a good amount 🙂 A few healthier ingredients make me feel better about eating them. Hope you enjoy!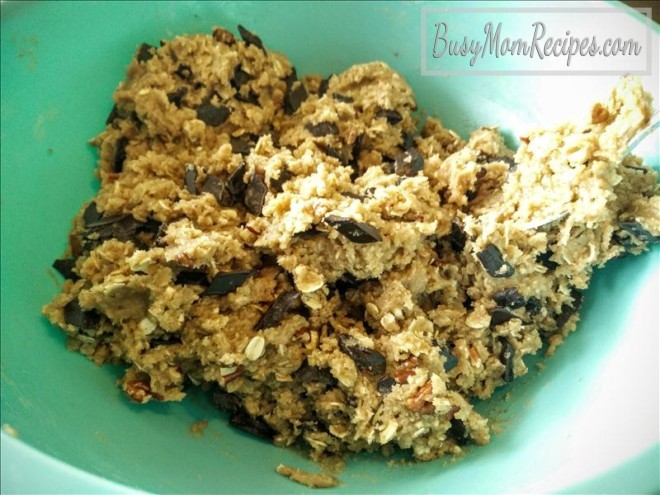 Chewy Chocolate Chip Cookies
Ingredients (makes about 4 dozen cookies):
1 C. white sugar
1 C. brown sugar
1 C. butter, softened (I usually microwave the butter… some of it turns out melted and some just softened)
2 eggs
1 tsp. baking soda
2 tsp. water
1 tsp. vanilla
1/2 tsp. salt
2 C. all-purpose flour
1 1/2 C. whole wheat flour
1 C. old fashioned rolled oats
1 C. semi-sweet chocolate chips or chocolate chunks
optional: 1/4 C. chopped walnuts or pecans
Instructions:
Preheat oven to 350 degrees F.
Cream together butter and sugars.
Mix in eggs.
Add baking soda, water, vanilla and salt. Stir.
Add flours, a little bit at a time, stirring in between.
Add oatmeal and chocolate chips. Stir.
Form into  1 1/2 inch cookie dough balls, press each one gently with two fingers or a fork (these cookies don't really spread, so it helps to flatten them down a little bit) and cook about 12 at a time on a cookie sheet.
Bake for about 5-6 minutes or until edges are lightly browned. Let the cookies sit on the hot cookie tray for about 5 minutes before transferring them to a plate.
*The cookies stay soft and chewy for a few days if you place them on a glass plate and wrap tightly with plastic wrap.
*Recipe inspired by my sister 🙂