Mmmm, Grain Free Chocolate Chip Cookies. This is the second plant-based dessert recipe we've made since watching Forks over Knives. I call these grain free chocolate chip cookies "plant-based", but the chocolate chips do have a little bit of milk in them, so it's not 100% plant-based, just as a disclaimer.
.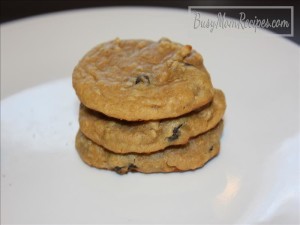 While I was in college (and pregnant with my first baby), my mom stopped by our apartment and dropped off some amazing chocolate chip cookies. When I asked for the recipe, she mentioned she made them with beans! I was shocked, but also happy to be able to enjoy a delicious chocolate chip cookie without feeling so guilty. 🙂 I think she also added raisins and oatmeal to the cookie. I still need to figure out how she made those!
My kids loved the cookie dough (it's more like batter), and since there is no raw egg, I wasn't so strict when they were picking in it. 😀 And of course they loved the cooked cookies too. It's a great little snack for kids.
Grain Free Chocolate Chip Cookies Recipe
Ingredients (makes about 12-15 cookies):
1 1/4 C. cooked chickpeas (garbanzo beans) (if you use canned, it's just a little less than a can of garbanzo beans, and you'll need to rinse and drain them)
1 tsp. baking powder
2 tsp. vanilla
1/2 C. peanut butter (the natural, just peanuts and salt as the ingredients)
1/4 C. honey
2-3 Tbsp. almond milk (as needed, to help it blend more smoothly)
1/2 C. semi-sweet chocolate chips
Instructions:
 Preheat oven to 350 degrees F.
Blend all ingredients except for the chocolate chips in a blender or food processor until smooth.
Stir in chocolate chips.
Cook for about 10-12 minutes, or until lightly browned.
Cool the cookies completely before serving.
Store any leftover cookies in a container in the refrigerator (or freeze them if you want).
*Inspired by THIS recipe.