So I think my favorite main dishes are these Pancit Canton noodles, pizza and burritos. Not all together of course, but if they are made right, they sure taste great and I don't think I can ever get tired of them :
You can cook the chicken and vegetables the day before or morning of and refrigerate them to make this recipe come together really fast when you're ready to eat it. Also, if you want to substitute the chicken with scrambled eggs, I think that would be delicious too!
Pancit Canton Noodles Recipe
Ingredients (4-6 servings):
1 package dry pancit canton noodles
2-3 chicken breast fillets, cooked and sliced (I recommend this PAN SEARED CHICKEN BREAST FILLETS recipe- so delicious!)
light olive oil (about 2 Tbsp., split)
about 1 Tbsp. fresh ginger, minced
2 cloves garlic, minced
2 carrots, sliced thin
2 stalks celery, chopped
2 small/medium heads of broccoli, chopped into florets or half florets
kosher salt for taste
about 1-2 tsp. low-sodium soy sauce
some water
Instructions:
Cook the chicken breast fillets (use THIS easy recipe). Once cooked, slice them up. Cover and refrigerate if you're not planning on making the rest of the Pancit Canton right away.
Cook the vegetables: Heat a large pan (that has a lid) to medium heat. Add about 1 Tbsp. olive oil, or enough to generously coat the bottom of the pan. Swirl around gently. First cook the minced ginger and garlic in the oil for a minute, stirring frequently. Add the carrots and cook another 2 minutes or so, stirring frequently. Add the celery and broccoli florets. Cook and stir for another 2-3 minutes. Add a little water (about 1-2 Tbsp.), cover with lid and let cook about 10 minutes, sitting once after 5 minutes. When the veggies are tender, but before they are mushy, remove from heat. If not using right away, cover and refrigerate until ready to use.
Cook the noodles: Find a large pot and fill it about 2 inches with water. Bring water to a boil. Add the dry Pancit Canton noodles and stir for about 3 minutes, or until the noodles are no longer crunchy. Don't overcook, you don't want them too mushy! Drain out the water. Stir in about a tablespoon of olive oil and a sprinkle of kosher salt (or table salt), and a little soy sauce to taste. Add in the cooked chicken slices and veggies. Mix together and serve. If the chicken and veggies have been refrigerated, you can reheat before adding them to the noodles, or just stir them into the hot noodles over a low heat setting, adding a little more olive oil if necessary, until the chicken and veggies are warm/hot throughout. 
You can serve this Pancit Canton with a side of fresh fruit.
*Inspired by this CHOW MEIN recipe and this ASIAN NOODLES RECIPE TIPS page.
Summary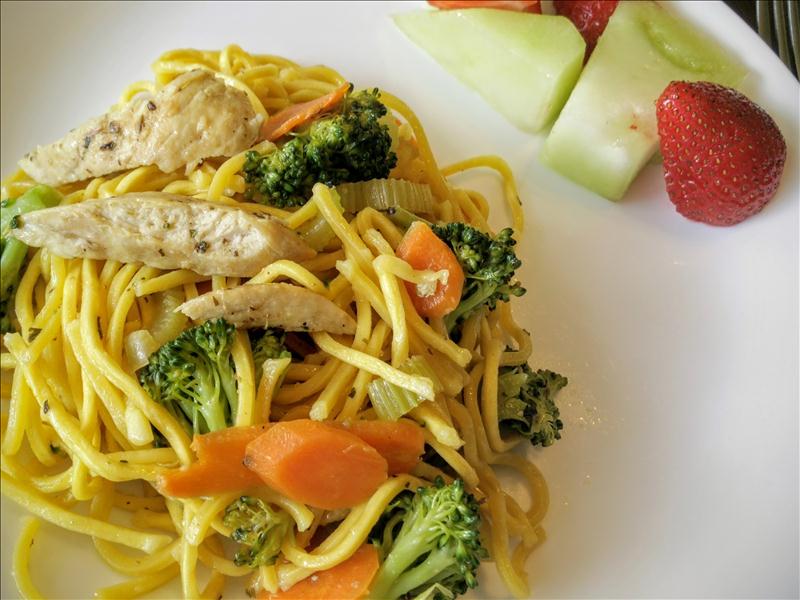 Recipe Name
Published On
Average Rating
Based on 1 Review(s)