Crock Pot Roast is so easy to prepare and only requires a few ingredients. These aren't ingredients I would normally think to make a roast with, but it turned out super tasty and I loved eating the peperoncinis that were cooked right there with the roast. They weren't quite as spicy this way 🙂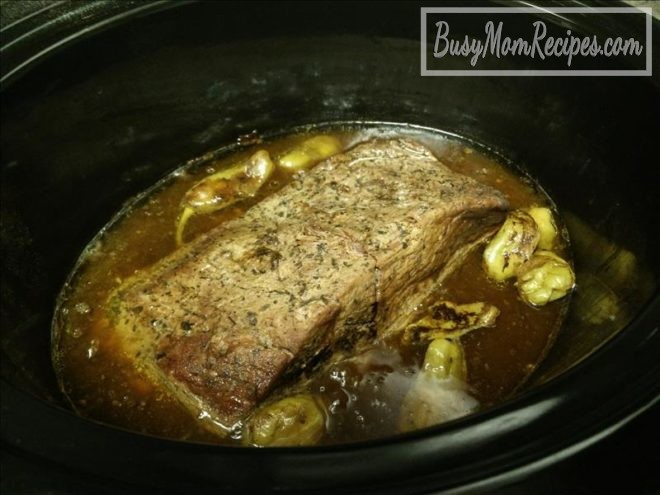 My whole family enjoyed this roast recipe and we hope you will enjoy it too!
Crock Pot Roast
Ingredients:
1 (3-4 pound) beef bottom round roast or chuck roast (I used beef bottom round since it was on sale and wasn't sure which kind to get anyway, but the lovely lady who shared this recipe with me says she always uses chuck roast and it turns out great that way too!)
1/4 C. butter (I just cut it into a few chunks to place around the roast)
8 peperoncinis, and a splash of the peperoncini juice
1 packet dry Au Jus seasoning (you should be able to find this in the grocery store near the taco seasoning mixes)
1 C. water 
Instructions:
Turn the crock pot onto the low heat setting.
Add the roast, butter, peperoncinis and a little peperoncini juice.
Whisk together the dry Au Jus seasoning with the cup of water, and pour it over the roast in the crock pot.
Sprinkle the Ranch seasoning on top.  
Cover the crock pot (don't lock the lid) and cook on low for 8 -9 hours, or until roast is done. (I used a 3 pounder. It was nice and tender by the end of 8 hours.) You should be able to pull it apart easily with a couple of forks.
This crock pot roast goes really well with mashed potatoes. You can even drizzle some of the juices from the crock pot onto the potatoes like a gravy. Serve green peas and/or a fresh salad or fresh veggies on the side.
What are some of your favorite easy crock pot recipes?
*Inspired by Kalena
Summary
Recipe Name
Crock Pot Roast with Peperoncinis
Published On
Average Rating
Based on 2 Review(s)