Did you see the post a few weeks ago for Quinoa Tabbouleh? Well, here is another delicious quinoa recipe I am excited to share! In this recipe, you can't really taste the quinoa though 🙂 This flourless chocolate cake is moist and I think it has a great texture. The whipping cream frosting is light and not too sweet. It goes really well with the cake.
It's amazing that this cake tastes so much like a chocolate cake made with flour even though it's made with cooked quinoa. Give this recipe a try and please let us know what you think!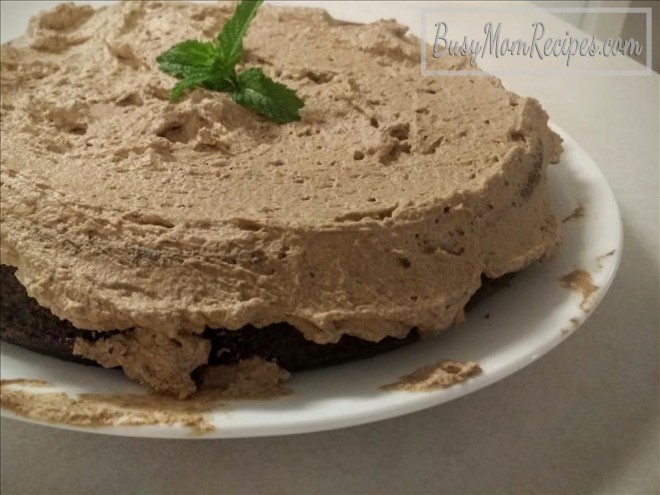 Flourless Chocolate Cake (made with quinoa)
Ingredients (for a circular 9-inch cake):
1/3 C. almond milk (you can use another milk of choice if you want)
4 large eggs
2 C. quinoa, cooked and cooled (rinse 1 Cup raw quinoa in a fine-mesh strainer under cool water. Put the rinsed quinoa in a saucepan with 2 Cups of water. Bring to a boil. Once boiling, cover and reduce heat to a simmer. Let simmer 12-15 minutes, or until tender and water is absorbed. Let cool.)
1 tsp. vanilla
1/2 C. butter, unsalted (if you use salted butter, just adjust the salt content by reducing the 1/2 tsp. salt to 1/4 tsp. salt)
1 1/2 tsp. baking powder
1/2 tsp. baking soda
1/2 tsp. salt (or 1/4 tsp. if you used salted butter)
1/2 C. plus 2 Tbsp. cocoa powder, separated
1 C. granulated sugar
1 C. heavy whipping cream
2 Tbsp. powdered sugar
optional: mint leaves as a garnish
Instructions:
Preheat oven to 350 degrees F. Line a 9-inch circular cake pan with a circle of parchment paper, then lightly spray the pan with cooking spray. 
Add almond milk, eggs, cooked and cooled quinoa, vanilla, and butter to a food processor or a good blender. Blend until smooth. Add baking powder, baking soda, salt, the 1/2 C. of cocoa powder and 1 C. of granulated sugar. Blend until mixed. If you're using a struggling blender, then just mix in the dry ingredients by hand in a bowl with the smooth quinoa mixture. 
Pour mixture into parchment-lined cake pan. Bake in preheated oven for 40-42 minutes. Remove from oven and let cool completely before frosting (if I let it cool overnight, I usually cover it lightly with a clean dish towel). 
Before serving, make the frosting by whipping the heavy cream until stiff peaks form (but don't turn it into butter!). Before it gets too stiff, add the 2 Tbsp. of cocoa powder and 2 Tbsp. of powdered sugar. Mix together. Remove cake from pan by tipping it upside down onto a plate. You may have to tap it a couple times to get the cake out. Peel off the parchment paper and discard. Spread the frosting on the cake. Refrigerate, covered loosely with foil, until ready to serve.
Garnish with mint leaves if desired 🙂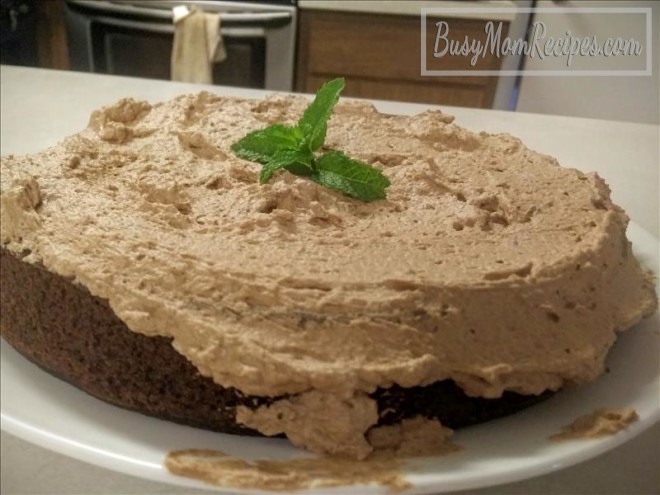 *Inspired by THIS recipe.
Summary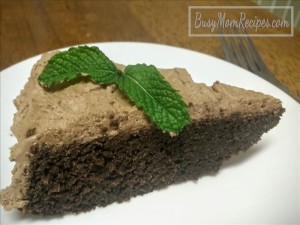 Recipe Name
Published On
Average Rating
Based on 3 Review(s)