We actually like to call these Celebration Rice Krispie Treats. We made them to celebrate Busy Dad coming home from a work trip, and kids learning how to tie shoe laces. The addition of whole mini marshmallows throughout the treats and colorful sprinkles on top make these extra special.
This is a fun recipe for kids to help with… dumping ingredients, stirring, sprinkling and tasting. What's not to like?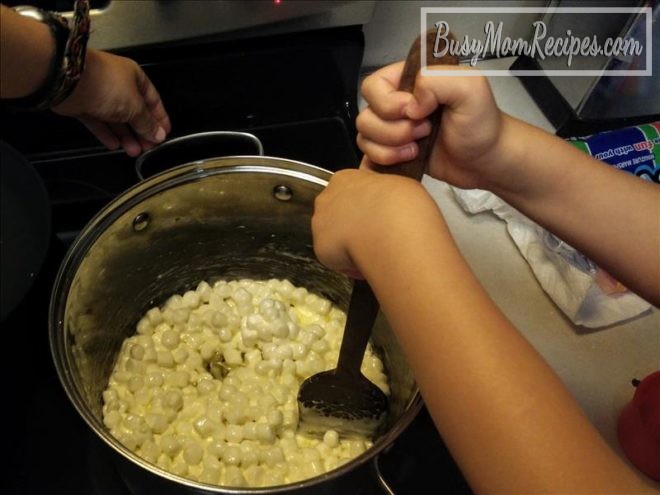 Rice Krispie Treats on the Stovetop
Ingredients:
Instructions:
Line a 13×9 inch glass baking dish with aluminum foil, letting about 2 or 3 inches of foil come off two of the edges (so you can lift everything out easily after the rice krispie treats are cooled and set). Spray the foil with cooking spray.
Melt the butter in a large pot over low heat. Set aside 2 Cups of the marshmallows. Add the rest of the marshmallows (should be about 8-9 cups) to the melted butter. Stir with a sturdy spoon or wooden paddle until the marshmallows are also melted.
Remove from heat, and stir in the salt and vanilla.
Stir in the 12 Cups of rice krispies cereal until they are all coated with the marshmallow/butter mixture. Stir in the remaining 2 Cups of marshmallows.
Dump everything into the foil-lined baking dish. Gently even everything into the dish, but try not to push down hard on the rice krispie treats.
If you'd like to make the rice krispie treats extra fun and special, sprinkle some colorful sprinkles on top. Let cool at room temperature.
To cut the rice krispie treats into pieces, carefully remove everything out of the baking dish by pulling up on the extra foil. Use a knife to cut into pieces. If there are any leftovers, store in an airtight container, with pieces of wax paper or parchment paper between layers.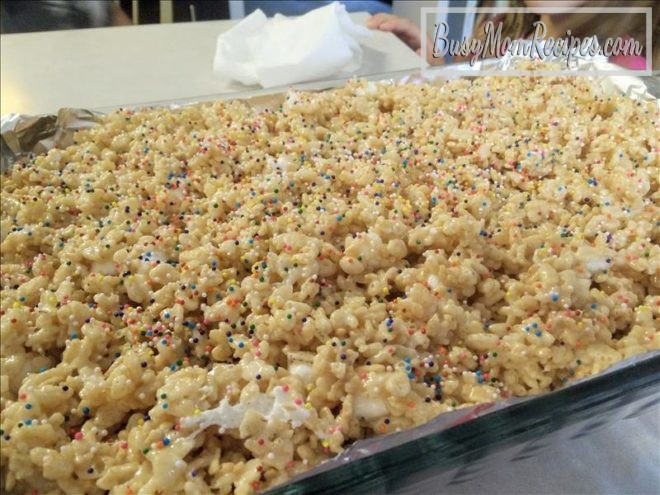 *Inspired by THIS recipe.
Summary
Recipe Name
Rice Krispie Treats on the Stovetop
Published On
Average Rating
Based on 2 Review(s)