Have you ever tried making lasagna with the no-boil noodles? This was my first time, and it was great! Totally worth the $1.50 to get the no-boil kind! First of all, no extra boiling time. Second of all, no lasagna noodles breaking and sticking to each other. It was just so much faster and hassle-free to make lasagna with no-boil noodles 🙂 
This lasagna is also awesome because there is spinach inside! I bought the main ingredients at Trader Joes (No-Boil Lasagna Noodles, Tomato Basil Marinara Sauce, Ricotta Cheese, Triple Washed Baby Spinach).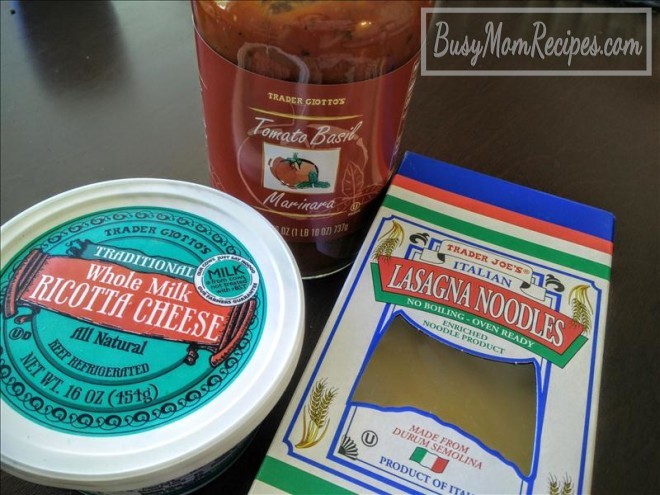 Spinach Lasagna (Vegetarian) Recipe
Ingredients (for a 9×13 inch baking dish):
2 Tbsp. butter
2 tsp. minced fresh Thyme (although I'm not sure if I used Rosemary or Thyme, but it really gave off a beautiful aroma)
1 Tbsp. minced garlic (about 2 cloves)
6 oz fresh Triple Washed Baby Spinach from Trader Joes
2 lbs. Ricotta Cheese
1 egg
1/2 tsp. salt
1/4 tsp nutmeg
a squeeze of lemon juice
1 (24 oz) jar Trader Joes Tomato Basil Marinara Sauce
2 C. shredded Mozzarella Cheese (I used Colby Jack and it was still great)
1 C. water, divided
Instructions:
Heat a large pan to medium heat. Melt the butter in the pan. Add minced Thyme and garlic and saute for 2-3 minutes (this is the part that smells amazing!). Add the fresh spinach to the pan and saute another 2-3 minutes, or until spinach is mostly wilted. Remove from heat and set aside. 
In a mixing bowl, stir together the Ricotta cheese, egg, salt, nutmeg, squeeze of lemon juice and the wilted spinach mixture. Transfer to blender (I did this in 2-3 batches) and pulse a few times. Return to mixing bowl. This gives it a really nice texture! Here's a picture to compare not blending (left) vs. blending a few seconds (right): 
Preheat oven to 375 degrees F. Spread a little marinara sauce (about 1/4 of the jar) evenly on the bottom of a 9×13 inch glass baking dish.  Layer with 3 lasagna noodles, then 1/3 of the spinach mixture, 1/4 of the sauce, 1/3 of the grated cheese. Do it again. Lasagna noodles, 1/3 of the spinach mixture, 1/4 of the sauce, 1/3 of the grated cheese. Now pour 1/2 C. of water over those two layers (try to do it evenly as possible). Now layer on the last 3 lasagna noodles, last 1/3 of the spinach mixture, last 1/4 of the sauce and last 1/3 of the grated cheese. Finish by pouring the last 1/2 C. of water on top, evenly. 
Cover tightly with lightly oiled foil (oiled side facing the lasagna). Place baking dish on a rimmed cookie sheet.Bake in preheated oven for about 35 minutes, or until the liquid is bubbling and the noodles have softened. Remove foil and bake another 10-12 minutes.
Remove from oven and let sit about 10-15 minutes so the noodles can soak up more of the remaining liquid. Serve warm!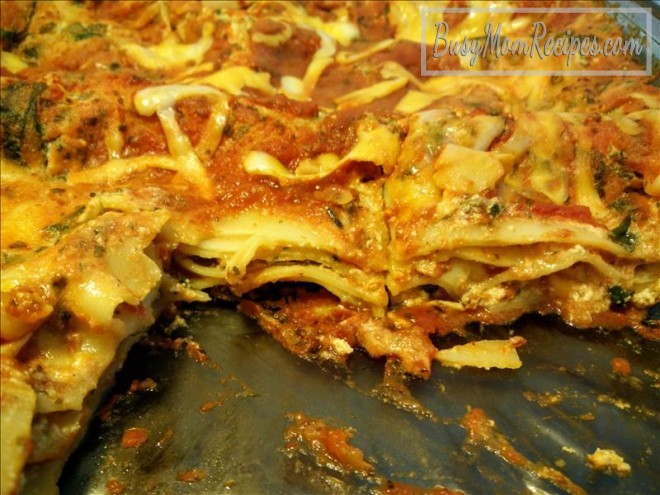 This was such a delicious spinach lasagna. I hope you enjoy the recipe!
*Inspired by THIS Skinny Spinach Lasagna Recipe.
Summary
Recipe Name
Published On
Average Rating
Based on 1 Review(s)